For the co-design workshop we will be using the online tool Zoom. This app works as a conference room where lots of people connect together to one call. On this app you can use your microphone to speak, and you can use your camera so that everyone can see you. This is a quick guide on how to get started with Zoom followed by a short FAQ.
Downloading Zoom
Please download the Zoom app for your computer, phone or tablet here. Click on 'Zoom Client for Meetings'. Install it on your device and you are ready to use it!
You do not have to create an account to participate in the meeting, simply click on the link you have received to join.
Joining a Meeting
From computer, tablet or phone (via the app): You can join either by clicking on the meeting link that you have received with the seminar invitation or by opening the Zoom app and joining by entering the ID number mentioned in the invitation. See this screenshot as an example.

Each meeting has a different ID. You do not need to create an account to join a meeting. Before connecting to the meeting, the app will ask you to click on the 'join with computer audio'. All participants will be muted from the beginning.
Calling in from your phone: If you are joining via telephone, look at the email we sent and pick the number that is next to the country you are located in. **When calling in by phone, you will not see the screen. This is only as a last resort option in case your internet connection drops or any other unfortunate event happens preventing you from participating online. When joining by phone you can use the numer *6  to Toggle mute/unmute and number *9 to raise hand
Muting and Unmuting
Everyone will be muted from the beginning of the session (to minimize background noise). If you want to speak, you will have to unmute yourself by clicking the microphone button on the bottom left corner of the screen. Click the same button to mute.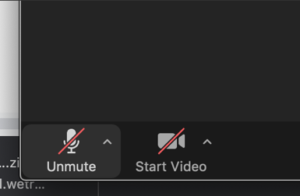 Turning your Video On and Off
To turn on your video as well, you will press the ´start video´ button, with the video camera icon. To turn it off, click it again.
Sharing and Unsharing your Screen
In order to share your screen you press on the share screen button at the bottom of the app. Press the same button to stop sharing your screen.
Raising your Hand
On the bottom of the app, you will see "participants". Clicking on this will open a window with all participants listed, including yourself; The window includes a symbol for raising (and lowering) your hand.
Making Screenshots
On most computers you can make screenshots (pictures of the screen). For Windows: Press command+shift+3 for a full screenshot, or on Mac, press command+shift+4 for a crosshair to appear, then move it where you want it, let go; in both cases, the screenshots will be saved on your desktop as PNGs.
Chat
On the bottom of the app, you will see the chat when clicking on button 'chat'. A chat box will appear on the right of the screen. You can post comments and raise questions here. During the sessions, the co-facilitar will manage the chat.
You can also write to someone privately 
Material
All ppts, documents, recordings and chat transcripts will be shared with all participants and co-hosts after the workshop on this website.
Leaving and joining back in to the Meeting
To leave the session click the 'leave meeting' button at xxx. To log back on again, you can use the same link you first joined with.
Setting up your video
Make sure your face can be seen well by your camera: don't sit too far away; don't use a source of light just behind you and remove distractions from your background if you can.
Problems
If you encounter any technical problem please contact Manon Koningstein at mkoningstein@ecoagriculture.org
If you encounter any other sort of problem please contact Peter Hazelwood on phazlewood@ecoagriculture.org and Minu Hemmati on minu@minuhemmati.net
FAQ
This section contains a few tips concerning common issues. For more detailed information, please visit Zoom's help center.
There is Help for owners & admins
Help for users & participants 
and Video tutorials
There is no sound/I can't hear anything
Make sure that you have joined your audio. If not, press the headphones symbol with the green arrow labeled "Join Audio." For phone or tablet users, the option should be in the menu at the upper right of your screen. Press the three dots if it isn't.
If the audio is connected, check your audio settings by pressing the arrow symbol next to the mute/unmute button in the main meeting window. Make sure that the proper speakers/headphones are selected.
Make sure that your speaker/headphones are properly connected to your computer.
If nothing seems to work, try restarting zoom and connect to the meeting room again.
Others can't hear me/the sound clips off when I speak
First make sure that you're not muted, then check if your microphone is connected to zoom by pressing the little arrow symbol next to the mute/unmute button. Select your microphone from the list.
Also make sure it's properly connected to your computer.
If others hear you faintly or your sound clips off, try speaking closer to your microphone, zoom has a natural echo cancellation feature which clips off sound when it gets too low, as it deems it to be background noise.
If all else fails, try to restart zoom and reconnect to the meeting.