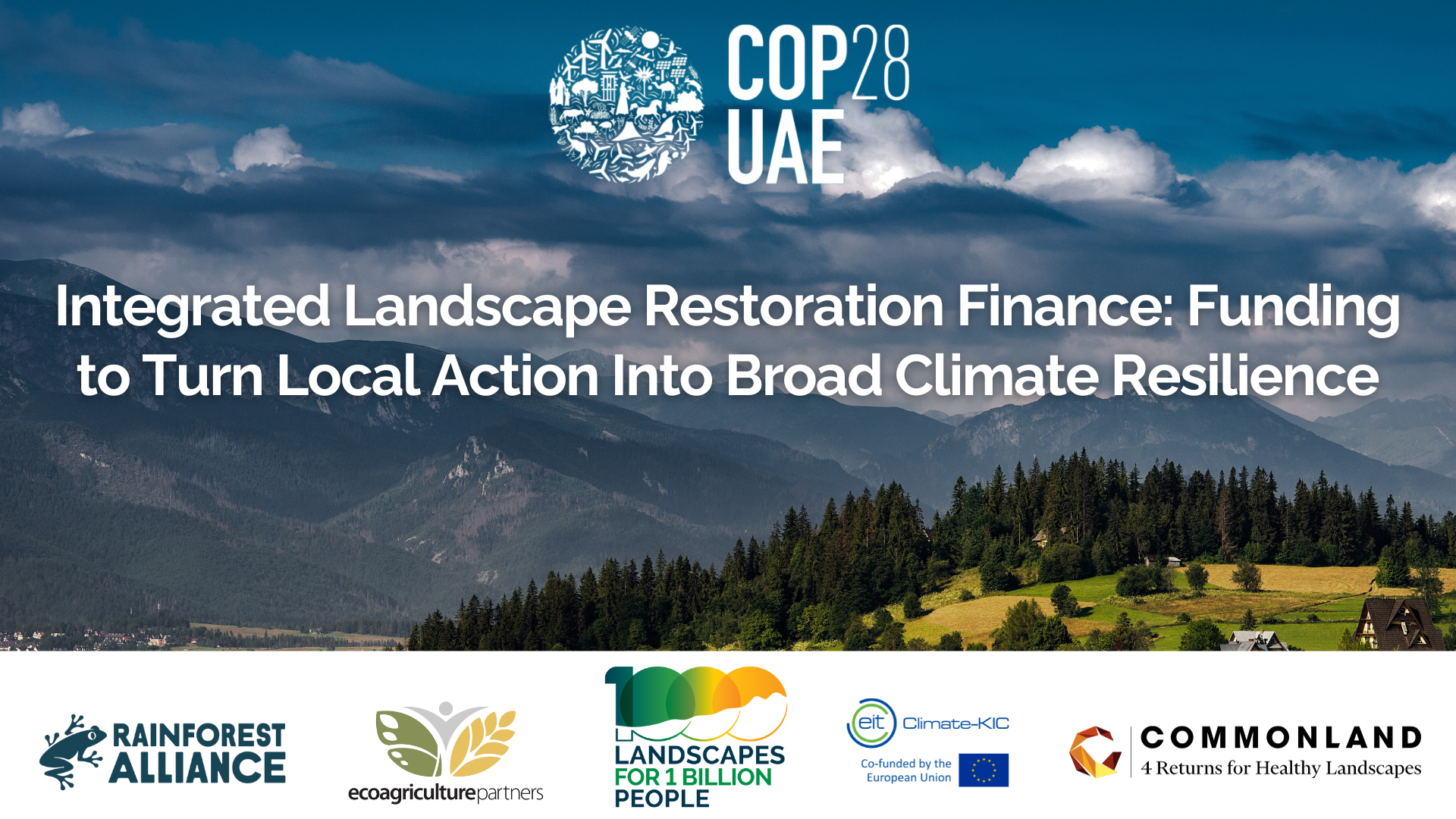 COP 28 Event: Integrated Landscape Restoration Finance: Funding to Turn Local Action Into Broad Climate Resilience
42
42 people viewed this event.
Various forecasts estimate that climate finance must reach $3-5.2 trillion annually by 2030 to address the climate and biodiversity crises. While current climate finance flows fall far short of that goal, the approximately three-quarters of a trillion dollars annually that the public and private sectors direct to these investments is significant and growing annually. Yet this sum conceals a major issue that threatens to derail good intentions: much of this funding is spent inefficiently, goes to the wrong place, or sits on the sidelines for lack of investable climate projects. Meanwhile, those farmers, landowners, Indigenous Peoples, local governments, and businesses most central to implementing climate action on the ground cannot get funding for transformative investments.
Integrated landscape finance (ILF) is a new approach to financing climate projects that takes a holistic view of the landscape to optimize investment. This approach recognizes that climate change is a complex issue that requires a comprehensive solution spanning agriculture, forests,  finance and access to it, food systems, renewable power generation, rural development, and other elements. Integrated landscape finance has important implications for the European Green Deal and for initiatives worldwide. It can help fund projects that reduce greenhouse gas emissions, boost livelihoods, protect biodiversity, and build resilience to climate change.
A panel of speakers will explore how ILF can be a powerful tool to initiate and leverage local projects at scale and in a coordinated way, through multi-stakeholder alliances, to achieve transformational change and address climate change. Panelists will include landscape finance experts, organizations leading climate action across farms, forests, and rural landscapes, local landscape leaders who have successfully secured funding to implement climate projects, and financiers who can talk about their organization's journey augmenting their funding strategies and approaches using a landscape finance lens.
Date: Fri, 08 Dec 2023
Time: 16:45-18:15
Location: Blue zone of UNFCCC COP 28 SE Room 7