Kiambu Landscape Partnership


Kiambu, Kiambu County, Kenya
Nestled in Kenya's west-central highlands north of Nairobi, Kiambu County landscape is known for its vast tea and coffee plantations. Agriculture serves as one of the most significant sources of income for local communities, with the dairy industry also playing a crucial role in the economy and in sustaining local livelihoods.
Over the last several years, the region has faced a series of mounting environmental and development challenges. Rapid population growth, coupled with industrial development and unsustainable agricultural practices, has led to deforestation, degradation of water catchments and encroachment onto natural areas due to ever changing socio-economic circumstances. Climate change has also caused highly unpredictable rainfall patterns, with heavy rains usually concentrated in short timeframes, resulting in a complex cycle of flooding and drought impacting agriculture production.
Led in a collaboration between the county government and civil society organization Kijabe Environment Volunteers (KENVO), a new Landscape Partnership emerged in 2012 to address these challenges and establish a new development paradigm. The LP created a Country Integrated Development Plan (CIDP) to assess the status of the region's natural resources, to highlight development priorities and to coherently coordinate activities on the ground. The LP plans to use the information gathered from these assessments to develop programs that improve livelihoods, conserve and sustainably use natural resources and protect the area's invaluable cultural and environmental heritage. Through collaboration with 1000 Landscapes, landscape leaders hope to strengthen understanding of the shifting development and financial needs and develop solutions to the county's environmental, economic and social challenges.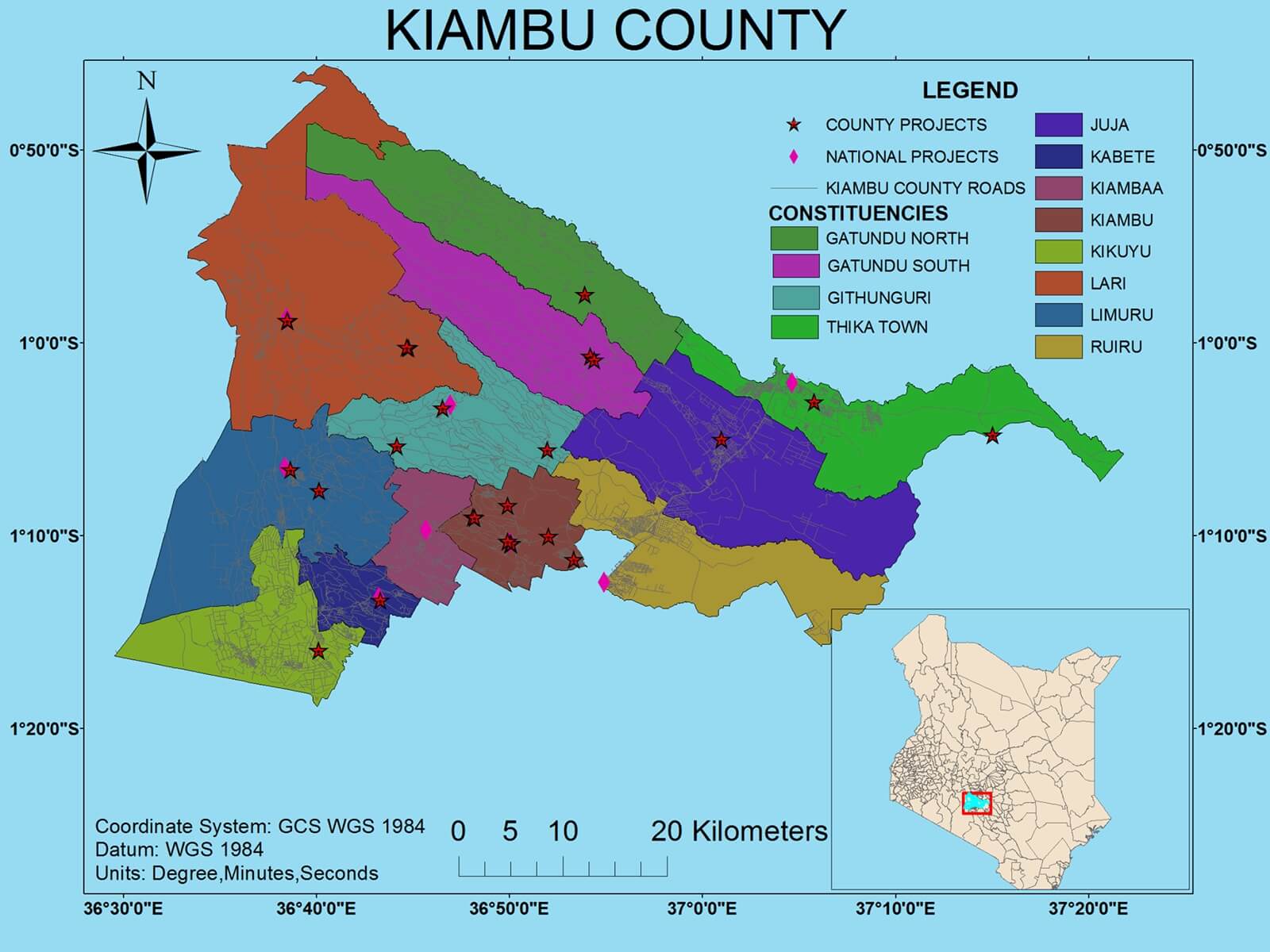 253,800 ha (980 square miles)
The Kiambu County landscape is a rapidly growing area just north of Nairobi, Kenya. Rapid population growth is causing a suite of problems including increased deforestation, degradation of water catchments and encroachment on natural areas broadly. Based on its close proximity to Nairobi, there is a strong and growing institutional presence in the area. Despite the growth, livelihoods are still predominantly driven by agriculture. Coffee and tea are the primary cash crops but a wide diversity of fruits and vegetables are also produced as well as fish, milk and flowers.
DOMINANT LIVELIHOODS IN THE LANDSCAPE
The major types of employment include:
Wage earners: Most of the employees in Kiambu are wage earners. These are not employed permanently and are supposed to be paid on a daily basis. Their wages are based on agricultural legal notice. According to the Labour office- Kiambu, 75% of them are employed in the tea and coffee estates and horticulture
Self-employed: There are many self-employed persons within the county. They are mainly construction companies, supermarkets, jua kali, manufacturing, hotels and bars among others
Labor force by sector: Coffee and tea estates are the leading sectors hiring labor force. Other sectors include manufacturers and the service industry
The main food crops grown in the county include maize, beans, Irish potatoes, bananas and vegetables
Coffee and tea are the main industrial crops grown especially in the upper and lower highlands of the County
Horticultural crop production plays an important role in the economy of Kiambu County. Major vegetables include French beans, snow peas, kales, cabbage, garden peas, tomatoes, spinach and carrot among others. Herbs and spices grown include dhania, basil, mint, rosemary, parsley and asparagus
Fruits: Pineapples are mainly grown in Gatundu North Sub County, while mangoes are mainly in Thika Sub County. Avocado is grown across the county
Floriculture was practiced in Lari and Limuru but farmers from other sub counties including Thika, Juja and Ruiru are now growing summer flowers for export
Dairy industry is the leading enterprise with nearly 70% of the farm families keeping an average of 2-3 cows under zero grazing systems. Milk is the major livestock product in Kiambu county and currently leading in Kenya. Poultry and pig keeping continue to take precedence after dairy farming
The main fish species farmed in the county is Tilapia and catfish which are warm water species
Apiculture (bee keeping): this has gradually increased leading to an increase in the total honey produced as well as the farmers' income.
NON-AGRICULTURAL PRODUCTS
The arid parts of the county mainly Ndeiya and Karai in Limuru and Kabete constituencies contain diatomite deposits that are unexploited
The main mining activity is natural gas exploitation in Lari constituency by Carbacid Company Limited
Others include extraction of ballast, hardcore, gravel, murram, sand and building stones in Juja, Thika, Gatundu South and Gatundu North Constituencies
Kiambu County has a wide variety of wildlife mainly found in Lari Sub-county, such as Kinale forest whose ecosystem harbors elephants, hyenas, leopards, numerous primates, and many species of birds.
Land in Kiambu is put under diverse uses including industrial, agricultural, commercial, wetland, forest and public land. The main forest types in the county are natural/indigenous and plantation forests.


Kiambu Landscape Partnership
YEAR LANDSCAPE PARTNERSHIP FORMED
LANDSCAPE PARTNERSHIP INTERVENTION STRATEGY AND GOALS
The key enablers to the Kiambu County Landscape Partnership are the technical officers working in the various ministries' departments and sections. They work with external stakeholders that include the national government, bi- and multilateral funders (sovereign countries), international organizations including the World Bank, NGOs, public agencies and research institutions including universities, and the private sector
The county has prepared the County Integrated Development Plan (CIDP) that guides all development activity across the county for the five years the County governments are in office. In addition to providing an assessment of the major natural resources in the county, the CIDP further highlights the key county development priorities, strategies and programs and flagship/County transformative projects in the County.
The County currently has plans to implement the following policy actions related to conservation and sustainable tourism:
Conservation and sustainable use of the environment and natural resources
Promotion of conservation of natural heritage and indigenous cultural values
Coordinated infrastructure planning and development
Supporting protection and sustainable management of water resources
Involving local communities in tourism development through diversification and improvement of tourist attraction sites/products, and
Promoting tourism through investment opportunities and marketing