Registrations have closed.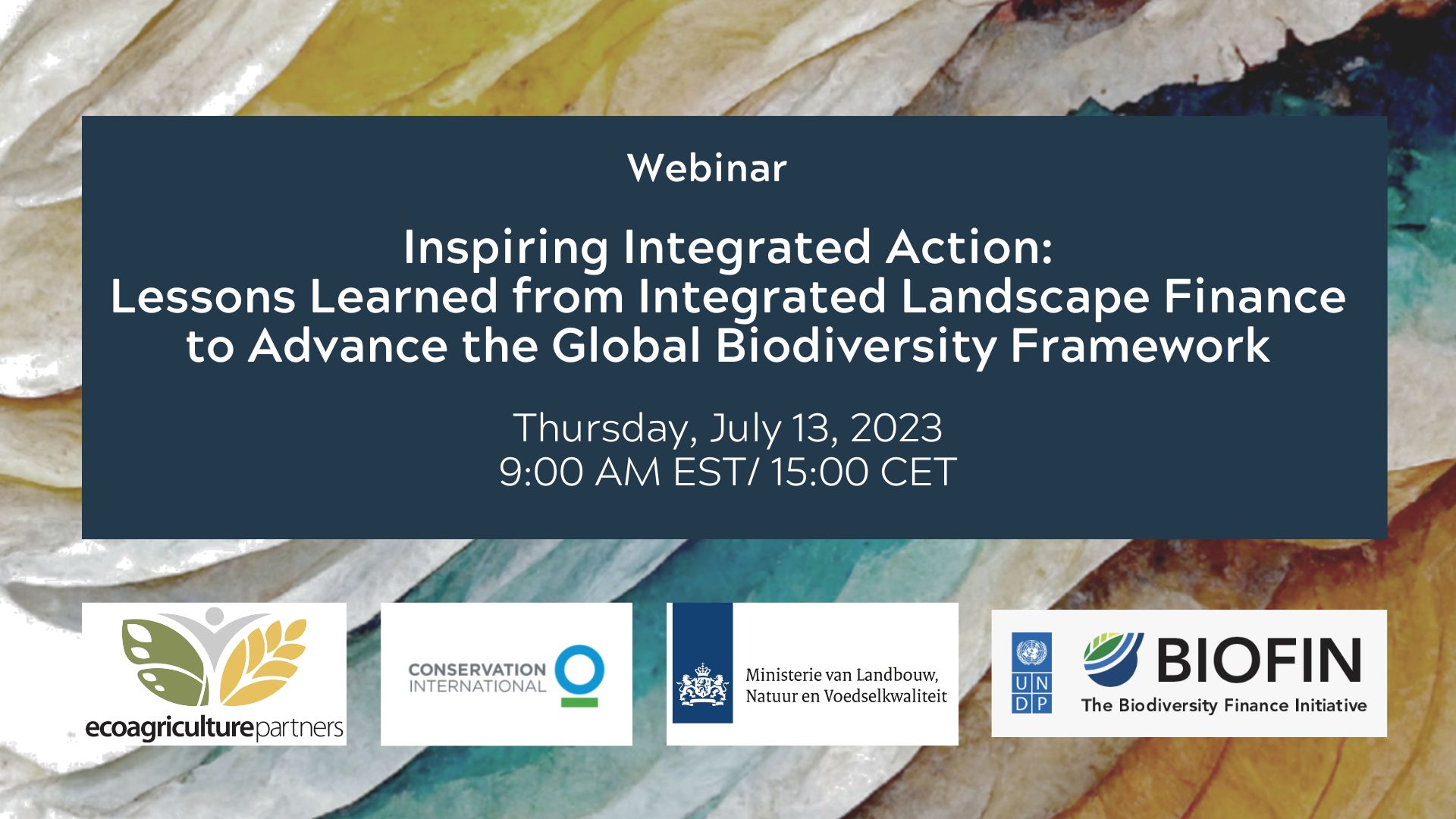 Inspiring Integrated Action: Lessons Learned from Integrated Landscape Finance to Advance the Global Biodiversity Framework
97
97 people viewed this event.
The adoption of the Kunming-Montreal Global Biodiversity Framework (GBF) marked a pivotal moment for global biodiversity conservation. Its four global goals and 23 targets came with a stark warning:
"Without such action, there will be a further acceleration in the global rate of species extinction, which is already hundreds of times higher than it has averaged over the past 10 million years."
The framework's ambitious targets will require significant resource mobilization to stem catastrophic biodiversity loss and achieve the outlined global goals. As part of these efforts, countries are developing National Biodiversity Finance Plans (NBFP) based on National Biodiversity Strategy and Action Plans (NBSAPs) with national targets. The new GBF will require national government integration and whole-of-society and whole-of-government approaches to biodiversity efforts.
Join us Thursday, July 13th at 9:00AM EST/ 3:00 PM CET for the launch of the report Lessons Learned from Integrated Landscape Finance to Advance the Global Biodiversity Framework: Review of Experience and Recommendations for National Biodiversity Strategies and Action Plans and National Biodiversity Finance Plans. Co-authored by EcoAgriculture Partners and Wolfs Company/Grant Thornton, supported by UNDP-BIOFIN, and commissioned by the Ministry of Agriculture, Nature and Food Quality of the Netherlands (LNV), this report highlights lessons from landscape approaches and explores how integrated landscape finance can support the implementation of the new Global Biodiversity Framework.
Together, our panelists will explore how integrated landscape management and finance can serve as vital mechanisms for national governments to support biodiversity goals and address unsustainable supply chains, biodiversity loss, climate change, and land degradation through their biodiversity strategy and action plans.
Speakers from EcoAgriculture Partners, The Government of the Netherlands, UNDP-BIOFIN, Conservation International, and more will provide an overview of recent developments and address critical questions, such as:
How can integrated landscape management and landscape-scale partnerships contribute to achieving the GBF's goals?
How should finance and NBFPs be structured to support biodiversity through integrated landscape approaches?
What initiatives are working to facilitate the updating and development of holistic NBSAPs and NBFPs?