Registrations have closed.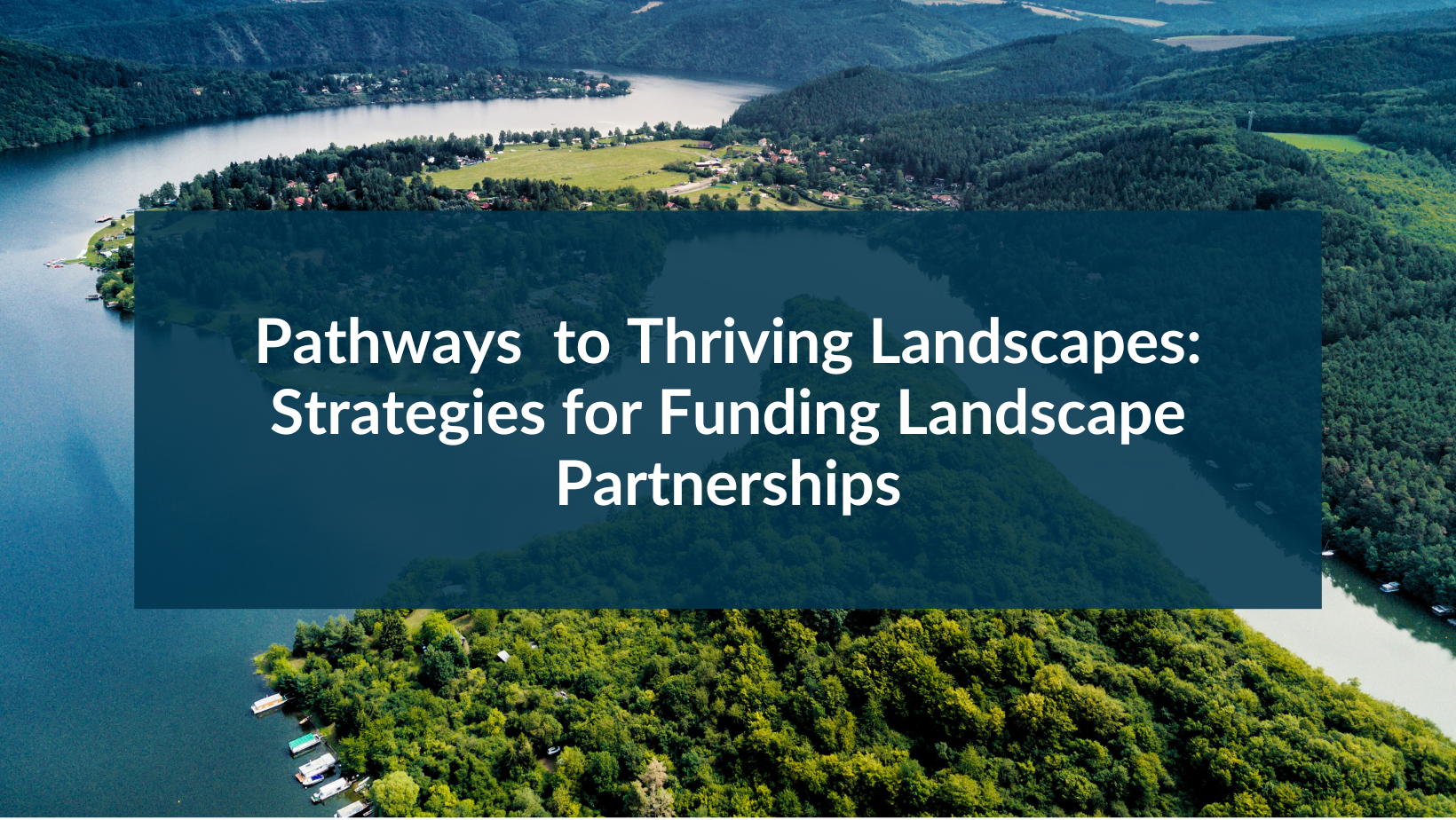 Pathways for Thriving Landscapes: Strategies for Funding Landscape Partnerships
465
465 people viewed this event.
When project funding is available for landscapes, it is typically from different sources and for different objectives. Landscape partnerships managing integrated landscape management processes can provide the needed coordination while offering a platform for multiple stakeholders to build trust, develop a vision for transformation, and collectively work towards it. The development and maintenance of these landscape partnerships require funding sources that recognize the importance of their role in the landscape as well as their need for long-term support. However, these are hard to come by.
In our new series, Pathways to Thriving Landscapes: Financing Economic Development and Healthy Ecosystems, we invite landscape and finance leaders to explore lessons learned from existing and emerging finance models and identify opportunities for how these can better enable landscape transformation. This series aims to highlight existing innovations and illuminate a new path to developing finance solutions to ensure long-term and large-scale success.
In the second of our three-part series on integrated landscape finance mechanisms, the 1000 Landscapes for 1 Billion People initiative will bring together experts and landscape practitioners to discuss their varied strategies for meeting the challenge of funding the core functions of landscape partnerships.
The objective of this three-part series will be to spotlight and share lessons learned in carbon finance, funds, bonds, or payment for ecosystem services that this developing community is most interested in. The following sessions will be designed to respond to the feedback of this first webinar to bring real-world examples of integrated landscape finance mechanisms being designed to respond to the needs of nature, climate, and people across landscapes.
Participant resources:
Learn more about the landscapes featured in this session:
Mount Mulanje, Malawi
Grupo Ecológico Sierra Gorda
Tanzania Regenerative Production Landscape
Alejandro Diaz Loyola is a Landscape Finance Specialist at Commonland, where he supports landscape partners with mobilizing finance for investment opportunities that contribute to large-scale landscape restoration initiatives.
Previously, Alejandro supported the design of blended finance vehicles targeting natural capital in emerging markets. He started his career working in capital markets, where he obtained his Chartered Financial Analyst (CFA) charter. He grew up in Mexico City and is currently based in Amsterdam.
Jean-Louis Robadey co-founded the Regenerative Development Group, a firm that supports the development of programs, enterprises, and investments that conserve nature, restore landscapes, and develop equitable nature-based economies. Jean-Louis has a 30-year career as a sustainable development professional. He has held executive positions in non-profit, for-profit, and philanthropic organizations and consulted across sectors to build high-impact programs and social investments. Jean-Louis lives in Seattle, WA, where he enjoys the Evergreen State with his wife, three children, two cats, and one dog.
Martha "Pati" Ruiz Corzo cofounded the Sierra Gorda Ecological Group (GESG) in 1987. The GESG obtained the decree as a federally protected area a decade later. Creating a site managed by civil society was unique in Mexico. Ruiz Corzo was named Federal Director of the Reserve, where she remained the head until 2009 when she returned to the helm at GESG.
The result has been the continuous operation of a grassroots environmental movement that has transformed the local population´s natural resource management practices. Her work has reoriented public spending and inter-agency cooperation to reach multiple stakeholders through the following programs:
Environmental education
The diversification of productive skills
Solid waste management
Regenerative practices in soils and forests
Healthy food production
Forest resource utilization
Community tourism
She measures her success with the 55 microenterprises that now operate successfully in the area and the state's public policy and private donors valuing forest services to reduce carbon footprints.
Carl Bruessow is the current director at the Mt. Mulanje Mountain Conservation Trust (MMCT), working in south-eastern Malawi. He was third-generation in Malawi and came into wildlife conservation as a systems analyst. While he has worked for small nonprofits and large donors such as USAID – he has dedicated himself to MMCT for the past 20 years. However, although only 600 km2, Mt. Mulanje has exceptionally high endemic biodiversity; considering its vulnerable social context, it is recognized as a Key Biodiversity Area (Priority One) and an Alliance for Zero Extinction site. Bruessow believes sustainable conservation progress requires a meaningful social contract where positive livelihood and ecological outcomes are catalysed by working closel
Hendrik Buermann is a Senior Project Manager at GIZ International Services and Project Director of the Laudes Foundation-funded Tanzania Regenerative Production Landscape.
He holds a Master's in Social Sciences and International Political Economy and has worked in international development projects since 2007. He implemented several large-scale projects for the EU, World Bank, DFID, Mastercard Foundation, and GFATM in India, Pakistan, Afghanistan, Tanzania, Sierra Leone, Liberia, Malaw,i and South Africa in agriculture, private sector development, natural resource management, and security.
Since 2016, he has been based in Tanzania, where he started the Laudes Foundation funded Organic Cotton program that made Tanzania one of the world's largest organic cotton producers. He firmly believes that development only works through coalition building and setting the right incentives. Framework conditions must be enabled so the private sector can drive transformation.
In his free time, he works with his wife in their social business, Kazi Yetu Ltd., with the vision to set a new benchmark for trade from East Africa, increasing opportunities for employment and growth by increasing local value addition to tea and niche products made in Tanzania and the region, targeting export markets in Europe, North America, and the Middle East.